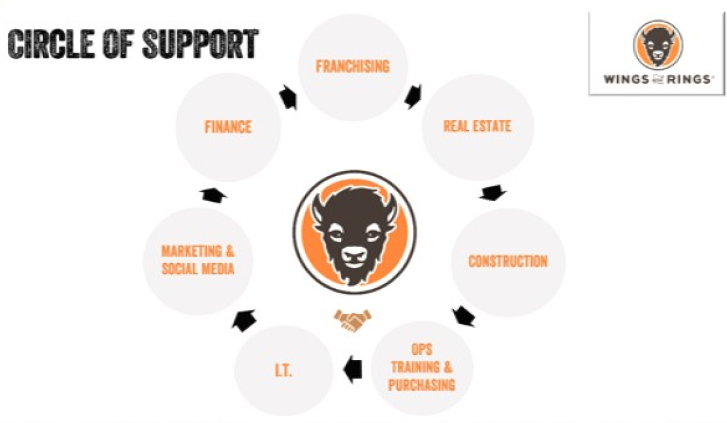 How Wings and Rings Creates a Positive Franchise Culture from the Top Down
Cincinnati-based elevated-restaurant franchise leads by example to spread "buffalove" across system
When Nader Masadeh, the president and CEO of Wings and Rings, went incognito as part of filming CBS's Undercover Boss, he did so in order to get an unfiltered look at how the brand's mission was playing out within the four walls of the brand's franchise-owned restaurants. But even before filming, Masadeh was no stranger to the dozens of franchisees within the Wings and Rings system. His presence and the access he and his corporate team offer to franchisees is ample, especially in an industry when interactions with C-level franchisors can be non-existent.
This approach to the business is of paramount importance to Masadeh, who has always subscribed to a servant-leadership strategy toward creating a successful brand and a positive culture.
"The servant-leadership mindset is important for success in our model," said Masadeh. "In this business, serving people comes first. Our highest performing franchisees share the core beliefs and values on which we have built the Wings and Rings brand."
That philosophy has been infectious. It's not just Masadeh who subscribes to those beliefs, they are shared and lived day-to-day by other members of the team like Tyler Skaggs, a field construction associate at Wings & Rings who joined the team a little over a year ago.
"First and foremost, it seems that everybody is putting others in the company first," said Skaggs. "We try to lead through servant-leadership. It plays well throughout our whole industry. We lead franchisees by serving them. A lot of times, franchisees come to me with questions about why something costs a certain amount and if there are any alternatives, so the best way I can lead them is by serving them. There are a lot of aspects to the industry that a lot of franchisees couldn't pull off on their own, so we provide guidance on those."