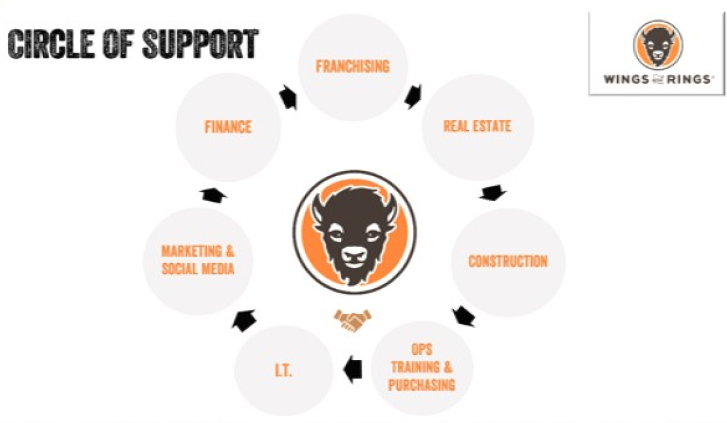 How Wings and Rings Creates a Positive Franchise Culture from the Top Down
When Nader Masadeh, the President and CEO of Wings & Rings, went incognito as part of filming CBS's Undercover Boss, he did so to get an unfiltered look at how the brand's mission was playing out within the four walls of the brand's franchisee-owned restaurants. But even before filming, Masadeh was no stranger to the dozens of franchisees within the Wings & Rings system. His presence and the access he and his corporate team offer to franchisees are ample, especially in an industry when interactions with C-level franchisors can be non-existent.
This approach to the business is of paramount importance to Masadeh, who has always subscribed to a servant-leadership strategy for creating a successful brand and a positive culture.
"The servant-leadership mindset is important for success in our model," said Masadeh. "In this business, serving people comes first. Our highest performing franchisees share the core beliefs and values on which we have built the Wings & Rings brand."
That philosophy has been infectious. It's not just Masadeh who subscribes to those beliefs; they are shared and lived day-to-day by other members of the team like Linsey Case, Marketing Manager for Wings & Rings.
"When you have your team's best interest in mind, and you work to help them grow instead of putting yourself first, you build stronger, loyal, committed teams," said Case. "It's a simple philosophy that goes a long way in building trust, and I think it's something that is innate in the Wings and Rings team. It's not something we have to remind ourselves to do, but rather something that we embrace and live up to as part of our core values."
Growing up in a "restaurant family," Case says she has the food industry in her blood. Her family owned an independent pizza restaurant that she worked there growing up and throughout college. When she graduated, she joined the marketing team of a local food manufacturer that supplied products to many of the restaurants in the area, including Wings and Rings.
"I grew up in the greater Cincinnati area and remember eating at several of the local Wings and Rings locations — from when I was a young kid to when I came home from college," said Case. "When I came across the opportunity to join the marketing team at Wings and Rings, it just felt like a natural fit. It was a brand that I knew and loved, and from the moment I walked in the door for the interview, I knew it was a place where I could not only be myself but also leverage my restaurant and marketing experience to grow the brand."
Now in her role as Marketing Manager, Case helps lead the marketing team as they support franchisees with ongoing programs to build brand awareness, including anything from social posts to store listing management, ongoing SEO and website maintenance, PR and even paid ads and content creation, and to build top line sales with programs like loyalty, SMS text, online ordering and the mobile app.
"Each team member at the Wings and Rings Support Center supports our franchisees in one way or another," said Case. "Everyone has a role to play and has an opportunity to impact our franchisee satisfaction."
One family that has found success with Wings & Rings is the Roses. Cincinnati-area franchisee Si Rose owns and operates two locations with his wife, Christin, who works in marketing at corporate; their son, Tyler, who serves as general manager at one of their restaurants; and their daughter, Kim, who works as an assistant general manager at their other location. The Roses' approach to business follows the same positive path seen at the corporate level.
"It's a servant mindset," said Si. "I don't know if anybody has ever heard me call any of my team members an 'employee,' nor do we suggest that anyone 'works for' our management team. It's all about getting things done with the cooperation of others. We work with people. You can't run a successful restaurant without them."
Si focuses a lot of his time with his team members on this idea of servant leadership, and he stresses the importance of interacting with guests with that philosophy in mind.
"We don't know what people face outside our restaurants," Si said. "If the only kindness and happiness they get during their day are when they're with us, then I'm glad to provide that."
While not officially a member of the Rose family, Adrienne Lyman, the general manager of their Finneytown location, said she's felt like family since joining the team.
"I started as the assistant general manager under Tyler Rose before he moved to open the new restaurant. His sister is my assistant GM," said Lyman. "So I'm the only one who's not in the family, but I feel like I'm their adopted daughter in a way. I'm invited to family parties, Tyler sends me pictures of his new baby, Si has season tickets to the Bengals and lets me use them. But it's not just me. Our servers, our hosts, everyone feels the same way. One of our hosts graduated from high school, and I was invited to her graduation party. I know everyone on the staff's families when they come in. It's a great atmosphere. Si is really involved in the community. We do all sorts of fundraisers with the local schools. We gain customer loyalty and promote the brand that way."
One way that the Rose family promotes the servant leadership culture is with a "Buffalove Wall" they have in the back of the house. The wall is dedicated to recognizing good deeds that team members have done around the restaurant — anything from giving a child a dollar to play the arcade games to holding the door open for someone in a wheelchair. At the end of the month, Kim Rose collects all of the Post-It notes and decides who wins the title of "Buffalove Ambassador" for the following month and gets one of a variety of rewards such as gift cards or free food for a month.
"We're encouraged to be positive and do great things for people and also acknowledge that people are doing these great things," said Lyman. "People really seem to enjoy it. Customers will pass by, see the wall and ask what it is. It's something that we're proud of."
The company understands the importance of continuing to cultivate and communicate a strong, positive culture. Demonstrating a belief in servant leadership is one of the key factors the brand looks for in new franchisee prospects.
"When we are vetting candidates, first and foremost, they need to be someone who believes in our values and goals," said Masadeh. "An ideal franchisee candidate is someone who has a passion for the elevated service and elevated food that we provide at Wings & Rings and someone who is good at following a proven system. We want candidates who are financially sound and business-savvy, but it's equally important that they have a servant-leadership mindset."