How Wings and Rings Is Still Building Restaurant Business One Guest at a Time
Thomas Flaherty, chief development officer for the sports restaurant and bar franchise, talks about the company's success navigating a pandemic through updated marketing measures.
When it comes to building a successful restaurant, Wings and Rings has always subscribed to a long-term strategy to build a loyal fan base and win over new fans through proactive marketing and delivering on its service promise. In recent months, the company has refined its approach, geared to take care of loyal customers and increase retention.
Thomas Flaherty, chief development officer of Wings and Rings, explained how 2020 setbacks launched the brand into that refined approach. "The COVID-19 pandemic expedited where Wings and Rings and the restaurant category in general was headed," said Flaherty. "For example, the shift to off-premises and delivery services was already well underway, and the need for technological integration has been a primary focus over the past few years."
All of these changes have been accelerated to combat pandemic-related issues and position Wings & Rings for success in the restaurant category's new normal.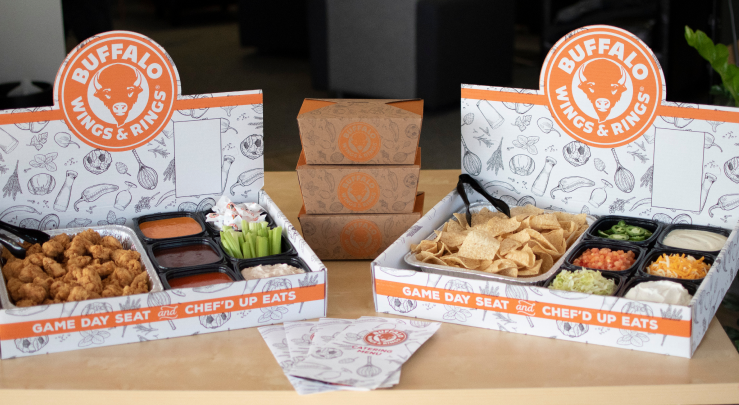 In addition, Wings and Rings has remained devoted to improving its already outstanding offerings, which include great food at the customer's convenience. It's that promise and passion driving the brand that has made franchisees feel so supported and kept customers happy.
Believing that true success in the restaurant industry doesn't come from one big splashy bang during a grand opening, but rather from a continued proactive approach to attracting and retaining guests, the leadership team at Wings and Rings encourage franchisees to enter the business well-funded. Having a long-term game plan that includes continued investment in marketing, maintaining quality team members and solid operations will lead to the building of a sound business over time. The company focuses on winning every opportunity with new guests and proactively ingraining the business into the local community.
Bill and Christine Melton, Wings and Rings franchisees and restaurant industry veterans, opened their Arlington, Texas Wings and Rings restaurant in October 2016. The couple has subscribed to the same "people first" approach held by the Wings and Rings corporate team and have made that a focal point of their restaurant's growth plan in the last year and two months of operation.
"From day one, we always say that it doesn't matter what's going on at the time; the people are the most important part of the restaurant," said Melton. "My wife and I role model that – we open the door for people – and there are very few places that are still doing that. Opening the door and welcoming people and then thanking them for coming when they leave is important."
"Bill Melton is focused on hospitality and developing his people. It's showing. His staff was extremely well-trained, and he is on an excellent trajectory," said Flaherty. "Bill and Christine understand the power of creating a culture of success inside of their four walls, but they also don't wait for guests to come to them. They get out there and act as fantastic brand ambassadors in their community."
Besides a heavy focus on people and maintaining a clean and welcoming restaurant, Melton has also found ways to build his Wings and Rings business by tapping into opportunities in the technology realm and in the community.
For example, Melton started working with Fooda, a company that connects restaurants with office buildings to create lunchtime "pop up" restaurants, in order to drive sales during lunch time, amp up catering and introduce Wings and Rings to a new audience. Melton has also started working with Uber Eats in order to expand the footprint of people his restaurant can reach and build sales outside of the restaurant's four walls. He's mixed these innovative approaches with some of the tried-and-true marketing efforts such as targeting the nearby Dallas Cowboys fan base, working with hotels near the restaurant by providing menus and free wing cards and finding ways to introduce the brand's high-quality product to as many people as possible.
"The restaurant industry has changed so much," said Melton. "Anyone who serves food is competition. There are so many options out there. But we have the best chicken in the Dallas-Fort Worth area. If people don't believe me and try our food and don't like them, I tell them that I'll pay for them myself. No one has corrected me yet."