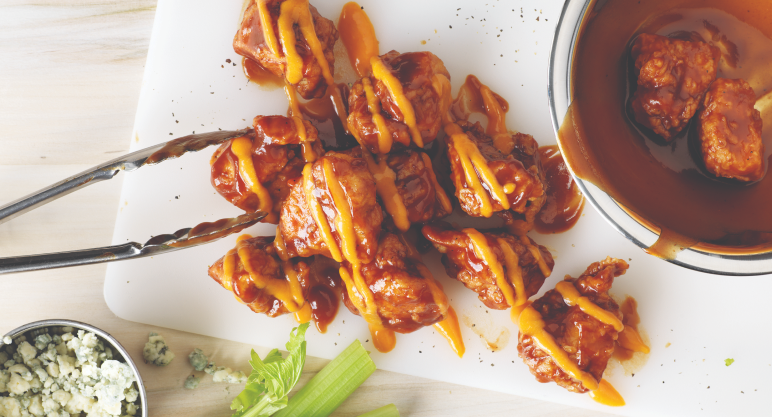 | TYPE OF EXPENDITURE | AMOUNT FOR ENDCAP SPACE | METHOD OF PAYMENT | WHEN DUE | TO WHOM PAYMENT IS TO BE MADE |
| --- | --- | --- | --- | --- |
| Initial Franchise Fee (B) | Between $0 and $40,000 per Franchised Restaurant(C) | Payable in a lump sum. | Upon signing the Franchise Agreement | Wings and Rings |
| Building/ Leasehold Improvements(D) | $563,000 to $820,000 | As incurred | Before opening | Contractors |
| Furniture, Fixture & Equipment | $349,000 to $452,000 | As incurred | Before opening | Suppliers |
| Point of Sale (POS) System | $41,000 to $46,000 | As incurred | Before opening | Suppliers |
| Signage (E) | $11,000 to $38,000 | As incurred | Before opening | Suppliers |
| Television & Related Equipment | $150,000 to $180,000 | As incurred | Before opening | Suppliers |
| Miscellaneous Opening Costs (F) | $33,000 to $56,000 | As incurred | As incurred | Suppliers and Utility Companies |
| Training (Travel, living expenses & in-store training) (G) | $12,000 to $17,000 | As incurred | Before or during training | Airlines, Hotels, Restaurants, Car Rentals, Employees |
| Pre-Opening Manager Salaries (3 month) & Hourly Associate 1.5 week | $59,000 to $91,000 | As incurred | Before opening | Employees |
| Professional Fees | $31,000 to $50,000 | As incurred | As incurred | Architect, accountant & attorney |
| Alcoholic Beverage License | $1,000 to $6,000 | Lump sum | Before opening | State or private owner |
| Insurance | $13,000 to $40,000 | As incurred | As incurred | Insurance Company |
| Opening Inventory | $36,000 | Lump sum | Before opening | Suppliers |
| Grand Opening Advertising | $10,000 | Lump sum payment of $10,000; additional amounts as incurred | Lump sum due upon signing the Franchise Agreement; additional amounts, as incurred | Wings and Rings and Suppliers |
| Additional Funds – 3 Months (H) | $50,000 to $100,000 | As incurred | As incurred | Suppliers, utility companies, payroll company |
| TOTAL (I) | $1,359,000 to $2,125,650 | | | |
Endcaps are the units or spaces located at the far ends of a shopping center or strip mall. Wings and Rings is currently only granting franchise opportunities to franchisees who agree to locate their Franchised Restaurant in an endcap location. Potential franchisees who desire to locate their Franchise Restaurant in any space that is not an endcap location must make such a request prior to entering into the Franchise Agreement with Wings and Rings. Wings and Rings reserves the right to deny such requests.
Imposed by and payable to Wings and Rings. All fees are non-refundable.
See Item 5 for the different types of franchise fees and the relationship between Franchise Fees and Development Rights Fees. All fees payable to Wings and Rings are non-refundable. Wings and Rings does not provide financing for the Franchise Fee or any other part of your initial investment.
The costs for leasehold improvements will vary depending upon several factors, including the geographic location of your Franchised Restaurant, the size of the premises (as noted above, our estimates are based on an endcap location of approximately 4,500 square feet to 5,000 square feet, the availability and cost of labor and materials, the condition of the premises, and the work that the landlord will perform as the result of lease negotiations. Landlords may, instead of performing some of the work, provide you with credit toward your future rent payments and/or a tenant improvement allowance. We will provide standard plans and specifications for the design and configuration of a prototype Wings and Rings Restaurant to the approved architect. You will be responsible for adapting the prototype plans to your particular location, complying with all laws applicable to the site (such as the Americans with Disabilities Act), and obtaining all zoning clearances and building permits and certificates. The figures are based upon a landlord contribution of $20 per sq. ft. of tenant improvements. Note some options are not included and could impact the estimated initial investment. The cost of construction for a free-standing building not included. New construction will be considered on a case by case basis.
Signage includes exterior signs and awnings that bear our proprietary marks. The cost of signage and awnings will vary depending upon the type, size, and location of the signs and awnings, and may also be affected by local restrictions. You will be required to erect or affix an exterior sign and awning to the Franchised Restaurant and a freestanding sign near the road on which the Franchised Restaurant is located.
Includes carry out menus, uniforms, safe, computer, office supplies, and security deposits, etc.
Wings and Rings does not charge an additional fee for the initial training, but you must pay the expenses of travel, lodging, food, wages and workers' compensation for you and your employees during the training program. These expenses will vary depending upon the number of persons attending training, the distance and method of travel, the availability and quality of your hotel and restaurant accommodations and living expenses during the training program. There are additional training fees if additional training is required.
You should have approximately $50,000 to $100,000 of additional funds for such expenses as payroll costs and working capital for the first 3 months of operation. These figures are estimates and we cannot guarantee that you will not have additional expenses when starting the business. This estimate does not provide for an owner's draw. You must have additional monies available, whether in cash or through a line of credit, or have other assets which you may liquidate, or against which you can borrow, to cover your personal living expenses and any operation losses sustained during the start-up and development stage of your business. The amount of necessary reserves will vary greatly from franchisee to franchisee depending upon many factors including your personal requirements, the Net Sales and success of your business, which will be affected by how much you follow Wings and Rings methods and procedures, your management skill, experience and business acumen, local economic conditions, the local market for our menu items, and competition. You may also incur expenses for business license fees, legal fees, accounting fees and local permits and operating authorizations necessary to start your business, which may vary considerably from one area to another.
The total figures listed in the above charts do not include cost of land, an owner's draw, compensation for your time or labor, or real estate costs, and may not include the full cost of an alcoholic beverage license. Nor do the total figures take into account any finance charges, interest, debt service obligation, or the costs that you may incur to finance all or any portion of your investment. In addition to the initial investment itemized in the chart above, you must have additional monies available, whether in cash or through a line of credit, or have other assets that you may liquidate, or against which you can borrow, to cover your personal living expenses and any operating losses sustained during the start-up and development stage of your business. You should review these figures carefully with a business advisor before making any decision to purchase the franchise. We do not offer direct or indirect financing to franchisees for any item. The availability and terms of financing will depend upon your credit worthiness, collateral that you may have and the lending policies of financial institutions